Haven't heard of MeUndies? Then you probably don't listen to podcasts. EVERY podcast shoves advertisements of the softest, most comfortable underwear known to man down the audience's earholes.
Do me a favor and go listen to like four podcasts. Come back and let me know if you heard 3+ advertisements for freaking MeUndies.
Short Attention Span Sum Up – Fail
Overpriced
Poor quality
You need 8% body fat to look good wearing them
Don't waste your money. The end.
What the frick is MeUndies?
It's an underwear subscription service. Yeah, you heard me. We live in a day and age where lazy people can order underwear over the internet.
They sell underwear, socks, pjs, bralettes, and even tote bags. A subscription isn't required, but everything costs more if you don't subscribe (anywhere from $2-$10 more).
If you're a member, you also gain access to member exclusive patterns. A subscription is technically free, but you have to agree to pay about $14/month for one pair of underwear.
It's actually $16/month for men, making this one of the only items in human history to cost more for males. YEAH I SAID IT.
The secret behind the comfort is some magical material called Lenzing Micromodal. In their words, "It's a sustainably sourced, naturally soft fiber that starts with beechwood trees and ends with the most amazing fabric you've ever experienced. The results have been downright dreamy."
If I was a baby beechwood tree and knew that my fate would be to end up on the butts of hipsters, I'd refuse to grow.
My experience
Ordering
I went to their website and was like, "Ok, their underwear is cute. I need new underwear. That's kinda cool that I'll get new undies every month. Also I'm lazy and love receiving packages!"
So I signed up easy peasy and picked the boyshort. You can choose between bikini, boyshort, thong, and freaking cheeky brief. Note: I hate the name CHEEKY brief almost as much as the word "panties."
I saw some reviews suggesting to order a size up, so I did and waited for my new undies to arrive.
The unveiling
I was super excited when they showed up and were in my hot little hands. It's all true what they say. The undies are freaking smoooooth man. Smoother than gelato on a summer day. They are super soft and almost silky without actually being silk.
BUT(T). When I tried them on I was instantly disappointed. I'm trying to think of a way to describe how bad this underwear looked on me. Oh, I know…this is exactly how I looked:
Not. Cute. In the underwear's defense, ordering up a size was a bad move. They were just too big. So I thought, "Okaaaay, I'm going to change the style and size and give them another chance."
I downsized and switched to bikini, my butt and I excitedly waiting for the new arrival. When the bikini showed up, I was pumped again! So soft and so cute! There were whittle otters holding hands on my undies!!!
And then…I put them on. And I looked like:
Here's the thing. While MeUndies feel super comfortable, the material is thin and floppy. There is zero "hug" or support.
However, the elastic bands give plenty of "hug" and they're thin in width. For anyone who does not have 8% body fat, you get where I'm going with this. All your wobbly bits are allowed to wobble free. In fact, they're accentuated.
Then the thin elastic bands add rolls to your body by pulling in your wobbles around the hip/waist area. The result: You look like the Michelin man pictured above.
Cost and Quality
This is the part that grinds my gears because I feel like I was ripped off. They're charging $14 for a pair of underwear that looks like fabric bought from the sale's rack of Joanne's fabric store (no offense Joanne's, you supply my knitting habit so I luff you).
You know the fabric Im talking about! It usually consists of really bizarre patterns on thin fabric, like hundreds of ducks wearing glasses or random cupcakes drawn by a four-year-old. The fabric FEELS nice, but it's super low quality.
In addition, these undies don't last my friends. Upon the second or third wash, the previously brilliant and soft fabric pilled up, dulled, and uh…I don't know how else to put it….became hairy? Fuzzy?
The fabric immediately began breaking down. Two pairs had the seams come apart altogether. This is unacceptable at $14/pair.
The only good news about MeUndies is that they have a no-hassle cancelation policy. All I had to do was go to their website and click a button to cancel.
Overall thoughts
This is a big Lana's NNNNNOOOOPPPEEE!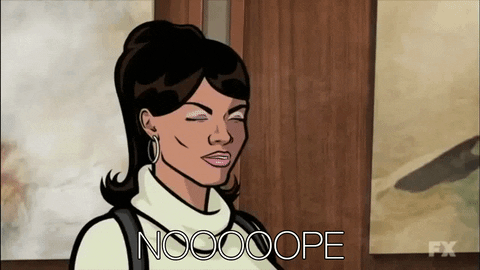 Sure they're cute, and while the fabric lasts (which isn't very long), they're extremely comfortable. But if you have an ounce of fat on you, these bad boys are gonna accent the hell out of the parts you don't want emphasis on. And unless you're some weirdo who likes dirty underwear, you're going to have to wash them, causing them to quickly degrade.
But if you don't believe me, feel free to try them out because (kudos to them) it is extremely easy to cancel. If you're not 100% satisfied, you can return the undies within 90 days of purchase. So that's also nice. I can't comment on the ease of return because I'm too lazy to ever return anything.
Thanks but no thanks MeUndies! I'm going to stick to my Costco undies thank you very much!