Short Attention Span Sum up:
Makeup Geek products are cheap as hell and SUPER high quality
Highly pigmented, extremely blendable, and have staying power
About 140 different shades to choose from
Cruelty-free
Cons: Mostly for purchase online, packaging (i.e. a compact) is not included, and tend to break easily
What is Makeup Geek?
I like cheap things that work great. I also used to be obsessed with makeup so I've wasted A LOT of money on multiple brands. Not so much anymore, now that I'm 100 years old and working with a cracked and broken canvas…grumble…grumble…
But enough about me, let's talk about Makeup Geek, owned by Marlena Stell.
She is almost annoyingly positive (I'm bitter), sweet and wonderful. If you were in deep with the beauty "community" on YouTube years ago, you've heard of her. She isn't talked about as much now because she doesn't constantly release flashy promotions and sales for YouTubers to chat about. Nor is she involved in crazy YouTube beauty drama like some people…
If you mostly shop in department stores and drugstores for your makeup, you probably have no clue who she is. But after what I'm about to tell you, you will want to know the crud out of her!
Back in the day, before she built her $10 million dollar empire, she was a music teacher who simply loved makeup. Then she started her Makeup Geek YouTube channel, comprised of makeup reviews and tutorials. She became so successful, she eventually quit teaching and started her own brand called Makeup Geek.
She spent years researching how to make beautiful products she would want to use, could be proud of, and that are affordable. During her research, she discovered that a $14 Mac eyeshadow (now $17) actually costs them $1 to make. THANKS MAC.
What I love about this woman is how you can genuinely tell she loves what she does, she takes pride in her products, and she's honest about everything. Qualities that are so rare and lacking in companies and personalities nowadays…
I discovered her because every freaking YouTuber, from influencers to professionals, were constantly singing the praises of her products. Learn more about her in an interview with Forbes here.
Pros and Cons to Makeup Geek
Pro #1: Price
The absolute best part about the MG eyeshadows is that they are cheap. They generally cost $6 a pop for 1.8g of product, depending on the formulation. The foiled eyeshadows are a bit more expensive at $10.
But let's still compare that to the $9-14 L'oreal, $17 Mac, and even $20 Urban Decay eyeshadows. Say whaaaa? What the heck is in Urban Decay eyeshadows, spun gold? So if you're looking to get a bunch of eyeshadows and don't want to break the bank, MG is the choice for you.
Pro #2: Pigmentation
For those of you who don't know what this means, it's the amount of color in a product. If you have an eyeshadow that requires multiple applications and layering to show up, it's not very pigmented. If you have an eyeshadow that takes one swipe to show up strong and bright, it's highly pigmented.
Once I tried my new MG eyeshadows, I immediately went to work investigating if they had dupes for all my less pigmented, yet extremely pricey, eyeshadows. You barely have to touch MG shadows and your finger is covered in color. Where Mac eyeshadows for instance, are way less pigmented (depending on the color) and require multiple layers to show up on the eyes.
I am NO beauty guru, but I tried to do a few swatches of my Mac and MG shadows so you could see my point.
Some of these shadows are very light (I am white as hell) so they're hard to see, but there are 10 swatches in the image.
As you can see, some of the Mac shadows didn't even swatch all the way or are barely visible cuz they're so poopy. And before you ask, I swirled each shadow 8 times with my finger so the swatch would be fair.
God my swatches are terrible. You guys are just gonna have to trust me…
I also swatched blushes from Mac and MG below. The pigmentation seemed about equal, but the MG blushes squeaked out ahead with a bit more pigmentation and evenness. Though this battle was pretty close, the Mac blushes cost between $20-$35, and the MG blushes cost $10. So…there's that.
Pro #3: Usability
The MG shadows are so freaking soft and easy to blend. Some of them, such as the foiled shadows, are so squishy soft they feel almost creamy. They glide on effortlessly and I've never experienced issues with creasing or fading.
Pro #4: Color selection
MG has about 140 different shades to choose from, ranging from neutrals…
…to rich blacks, taupes, and purples…
…to brightly random colors such as green, peach, and blue:
Eyeshadow finishes include mattes, satins, or shimmers. There are also loose pigments, and duochromes (eyeshadows that appear to be two colors in one).
But my personal favorites are the foiled shadows:
So MG pretty much has everything you need in regards to shadows.
But this is a fair review, so let's get into the cons!
Con #1: MG is mostly available online 🙁
I HATE buying things online because I'm a lazy person who doesn't like to return items that don't work out. Makeup is personal and unique, so colors will look totally different on you than they would on another person. Unfortunately online shopping cuts your ability to try on items before purchasing.
However, Marlena recently made some items available at Target this year. So if you're not sure if you can trust me or not, head there and test out some items!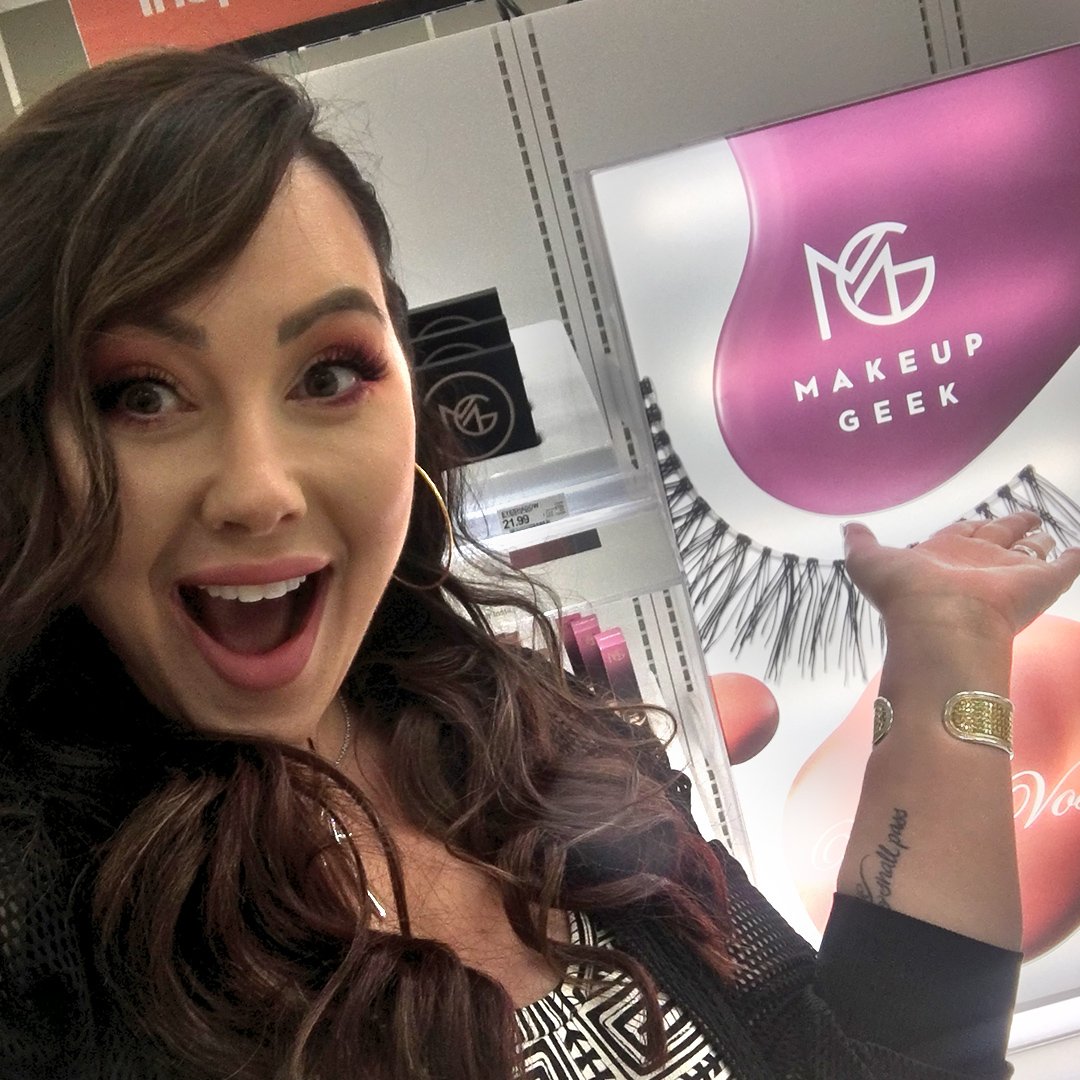 Con-ish #2: The eyeshadows don't have containers
This can be a pro or a con depending on how you manage your makeup. The eyeshadows come in the pan ONLY and are wrapped in cardboard packing. So there's no plastic pop-up container with a mirror and handy sponge brush (you know that crap brush ends up in the trash).
You're going to need to purchase a magnetic pallet to provide a cozy little home for your beautiful new shadows.
For some, this is a "pro" because you don't have to go through the painful/messy process of de-potting the eyeshadows to make custom palettes. Making a palette can be awesome because you can create personalized looks that will easily travel with you anywhere. Then you don't have to carry around five different eyeshadow palettes just because you like one eyeshadow from each.
For those who don't care to make their own palettes, or just want to purchase one eyeshadow, this can be a pain in the butt. However, you can purchase palettes from MG from $5-25 bucks, or purchase them on amazon here. Plus, MG fits in all types of palettes, so if you already have a Mac palette, for instance, these will fit in perfectly.
Con-ish #3: They're easily breakable
When I say these shadows are soft and almost creamy, I ain't kidding. This is great when you're looking for blendability and pigmentation that's through the roof! However, it's not good when you're looking for stable eyeshadows that won't break or get nicks in them.
It's especially not good if you're a clumsy ox such as I who leaves palettes on the edge of the sink, knocks things over constantly, or carelessly throws palettes into gym bags tossing your shoes on top. So I have had a few shatter quite easily, and others chip pretty quickly. Just know you can't treat these like other boring eyeshadows.
Treat them well and the payoff will be great!
Final Thoughts
MG eyeshadows (and blushes) are some of the cheapest, softest, easy-to-blend, pigmented products out there. They're made by a woman who truly lives and breathes her product, strives to deliver high-quality and affordable shadows, and is transparent about how her products are made. In addition, all of her products are cruelty free!
I highly suggest you either go to Target and test out a few or purchase a couple online. Your wallet and your face will thank you!